When you drive your car, your eyes regularly scan the dashboard. Am I driving too fast? Am I going to run out of gas? Your brain analyzes many pieces of information in a fraction of a second.
As an entrepreneur, sometimes you also have to make rapid decisions. Do you have a dashboard with indicators that can inform your decision making?
During a 20-minute CPA webinar presented on June 23, Richard Morrisseau, FCPA, FCMA and member of the Ordre des CPA du Québec, explained that too few entrepreneurs use a dashboard as a management tool. "And yet, it's an essential tool for decision making that clarifies objectives and mobilizes the troops," he said.
What is a dashboard for businesses?
A dashboard is a visual representation of a group of key indicators (between 12 and 16) needed to evaluate performance and decision making. It enables a rapid understanding of a situation at a glance. It is effective and functions best if it is available in just a click, in real time, and if the visuals are streamlined and simple to understand at a glance.
Why use one?
A dashboard enables you to assess situations and make decisions faster.
What does it explain?
With a quick look at your dashboard, you can:
Understand the past and present and anticipate the future.
Always know whether your efforts are furthering the organizational strategy (strategic alignment).
Have a clear vision of results versus objectives (correct deviations).
Ensure consistency and synergy of efforts.
Obtain better strategic intelligence.
This tool can be used to measure the performance of the organization or of a project, team, piece of equipment, position, or individual.
Another benefit: a dashboard helps you mobilize your team!
A dashboard can clarify your objectives and vision for your team like never before. Your management team and employees will have a common vision of what is important for your business. Make it visually attractive, colourful (green, yellow, red), and simple. Everyone will want to consult it!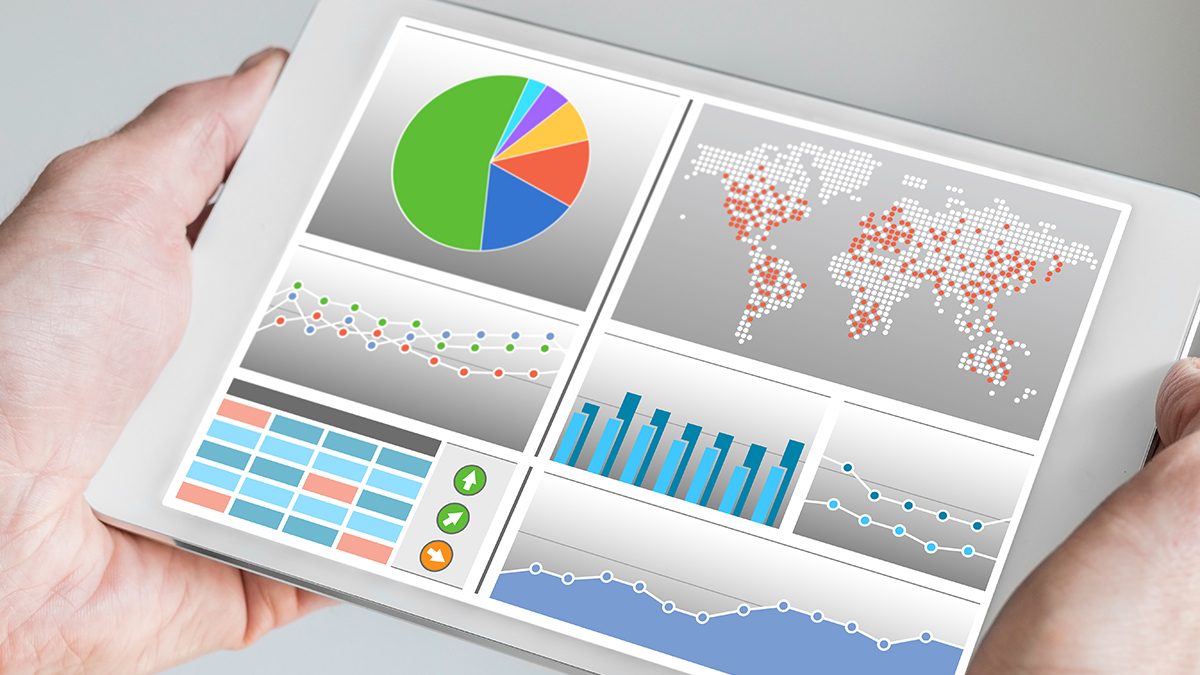 What does a dashboard contain?
To maximize its benefits, a dashboard includes performance indicators grouped into six areas:
Clients (e.g.: customer satisfaction, number of clients, number of visitors, sales $ and units)
Financial results (e.g.: net income, gross margin, EBITDA, etc.)
Processes/efficiency (e.g.: product quality, production capacity, number of employees based on sales)
Organizational learning (human resources: training hours, turnover, engagement)
Governance (e.g.: number of contracts awarded, value of contracts, respect for procurement rules, identification of the main risks, (e.g.: dependence on one supplier or client))
Environment (e.g.: social responsibility, water consumption, waste)
I'm sold! Where do I start?
Creating a dashboard begins with a thorough understanding of your organization's strategic positioning. This means knowing:
The organization's mission and vision
The value proposition (promise to clients)
Social responsibility
Corporate values
Objectives and targets
Its competitive advantage
Its value domain (operational excellence, product leadership, customer intimacy or market creation)
Your internal and external environments (strengths, weaknesses, threats, opportunities, risks)
The organization's challenges
The strategy and business model
The steps in the client experience and steps in the value chain
The dashboard and the choice of indicators must reflect your strategic plan.
Take time to think so you can build a useful, effective tool. This sort of management tool will take more than a few hours to build. Your CPA can help you. Don't hesitate to consult them!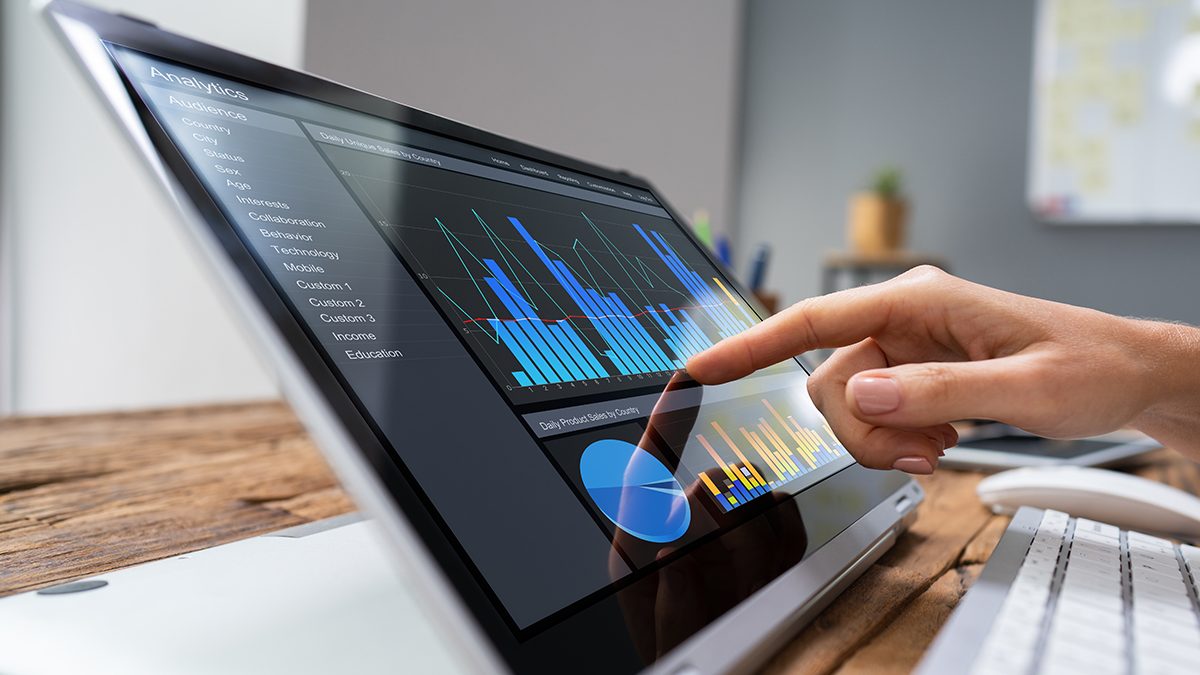 What software can you use to create a dashboard?
There are several software programs you can use to make dashboards, for example, Power BI, Tableau, BSX Designer, and Microsoft Dynamics, to name just a few. A Google search will reveal options. You can also use Excel if you are skilled at creating graphics and appealing visuals.
It is essential that as much data as possible (all of it, in fact!) be automatically calculated on your dashboard, so that there is no extra ongoing work for you and your team.
To sum up: 5 tips for maximizing the benefits of this new tool
Ensure your dashboard is visually understandable at a glance.
Your indicators must reflect the past, current position, and future trends based on objectives and reference points.
Be sure that your indicators are aligned with your business priorities.
The dashboard must be used by your whole team to be an organizational communication tool built around shared objectives.
It must be a management tool for planning, measuring, evaluating, and correcting a situation. A good dashboard lets you react quickly and make decisions in the case of discrepancies.
Your dashboard will be one of your top management tools. In fact, it could become THE management tool! To watch the webinar hosted by Richard Morrisseau: https://youtu.be/xu5Mg3CWNG0
---
En partenariat avec l'Ordre des CPA du Québec, Evol a présenté une série de 4 webinaires sur des sujets relevant de la comptabilité d'une entreprise. Les quatre sessions ayant affiché complet rapidement, il nous fait plaisir de vous inviter à regarder leur enregistrement disponible en rediffusion sur nos médias sociaux. Bonne écoute!
Richard Morrisseau, FCPA, FCMA
FCMA Co-founder | Guardian of Strategic Positioning, Bluemind
A Fellow de l'Ordre des CPA, Richard Morrisseau is a partner at Bluemind, a company that guides managers who want to learn more about the strategic management of their organization.
He has held leadership positions at major companies, SMEs, and non-profits. He has worked primarily for organizations, such as Petro-Canada, AXA, and BMO in Canada, France, and the U.S. as well as for a number of SMEs. He was appointed to manage the strategic vision and training programs in global procurement at the International Strategic Procurement Council in Paris, representing Canada to develop guidelines in sourcing and procurement.
He is the only bilingual recognized expert in Blue Ocean Strategy in North America on innovation, strategic planning, and change.
A graduate from McGill University and Université de Montréal, with a wide range of training courses completed in Europe, the U.S., and Asia, Richard Morrisseau is a seasoned trainer and speaker with over 30 years of international experience. His topics of expertise are strategy, Blue Ocean creation, performance management, and strategic procurement.
Today he coaches business leaders in management and strategic thinking.
---